Marshmello drops 'Shockwave' collab with Nitti Gritti & Megan Thee stallion, "Bad Bitches" [LISTEN]
Are you ready for the bad bitches?
Marshmello, Nitti Gritti, and Megan You stallion started their mega-collaboration "Bad Bitches". The song is a certified party sure started getting bad bitches all over the floor. While Marshmello and Nitti Gritti put off a bass house frenzy, Megan controls the track with a "Hot Girl Summer" 2.0 attitude.
Meanwhile, Marshmello's album information has been leaked on Apple Music, confirming the album title. Shock wave, plus, official art, staff, and more. The album offers 12 tracks in total, which is confirmed by another leaked tracklist on Twitter not so long ago that lasts 34 minutes and will be out soon Joytime collective.
In addition, Marshmello recently tweeted "Shockwave" …
Shock wave👀
– Marshmello (@marshmellomusic) May 30, 2021
Previously released singles "Back in Time" with slaughter and "Hitta" with eptic and Juicy J strongly hinted at a diverse, collapsing album – but it doesn't stop there. Shockwave's upcoming features include "Jiggle It" TroyBoi, "Save" with DJ Sliink, "House party" with Subtronics, "Candy Kid" with SIPPY and "Pushin Stacks" with Look look.
Listen here, check out the tracklist below – and get ready for Shockwave.
Marshmello – "Bad Bitches" ft. Nitti Gritti & Megan Thee stallion
Marshmello – Shockwave (track listing)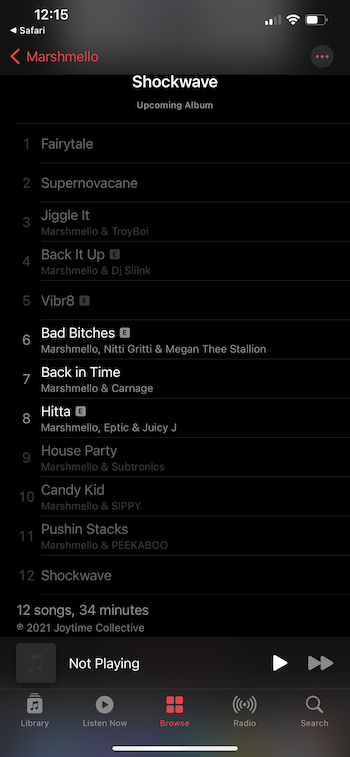 Photo via Rukes.com